What is the "Mercat"?
The Mercat de Flor i Planta Ornamental de Catalunya is a wholesale commercial market situated in Vilassar de Mar, which functions legally as an Agrarian Transformation Company. The Mercat has 352 members and over 5,000 customers (December 2013 census), getting together companies related to ornamental flower and plant sector. The Mercat is also a corporation where professionals can find a wide range of services, from group purchasing to professional advice and general information about the sector.
A model in South Europe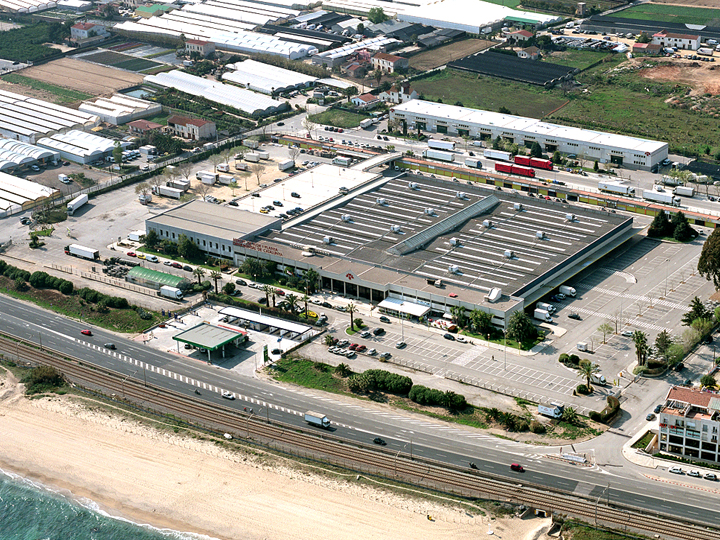 Technical data
64,662 m2 surface area on 16,648 m2 of which there are buildings. 7,848 m2 are used for direct sales, through 300 stands of ornamental flowers and plants each one measuring 12 m2. 45 stands are used for the sale of floristry articles varying between 18 and 24 m2 and a bank. An adjacent 4,700 m2 industrial building for companies in the production and commercialisation sector. 1,100 m2 on which there are 55 external premises for complementary services and 3,000 m2 on which there are 12 premises for commercial activity situated in the service and equipment zone. 16,000 m2 of parking spaces. Offices of the Department of Agriculture of the Generalitat de Catalunya and various offices related to the sector.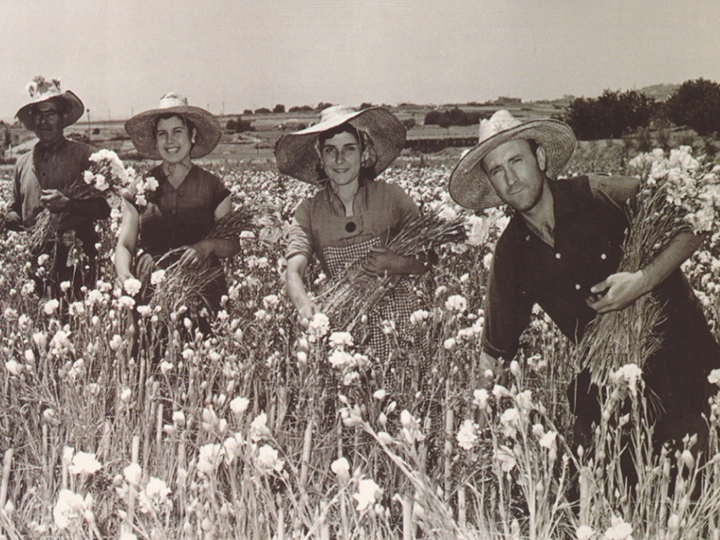 History
Italian carnations, first imported to Vilassar de Mar from Italy in 1925, marked the beginning of ornamental horticulture in the area. Significant expansion occurred in the 1960's when merchandise from the Maresme gained strength in the European market. The Mercat was created in 1983 in response to the demand for agricultural modernization in Catalonia and Spain.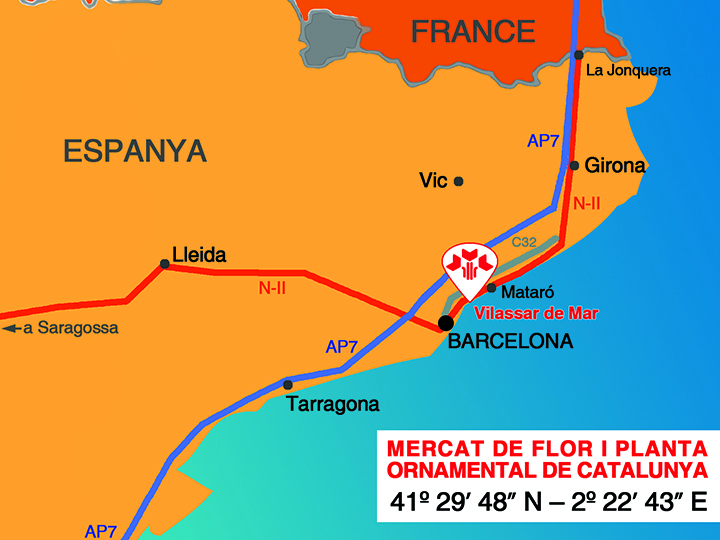 Geographical situation
The Maresme is a region in the province of Barcelona which begins ten kilometres north east of the capital and runs between the Mediterranean and the coastal hills inland, It is a region with very good communications to South Europe. The typical Mediterranean climate together with the fertile alluvial soil of the Maresme has favored the evolution and diversity of agriculture in the region. The Mercat is located in the centre of a traditional production area.